Powerful reporting for all business
critical areas
Business management simplified. Instantly control and monitor all operational areas in one place.
Powerful reporting
Our powerful reporting capabilities provides business owners and managers with an instant overview of the business. Our comprehensive reporting provides deep insights into vital business metrics that help to track and grow your business success.
From one dashboard, you can monitor everything from product sales, revenue and staff performances to full stock tracking and product wastage.
Financial reports are automatically generated, including cash & card payments, sales, staff discounts, tax reports and many more
Easily and instantly track the performance of special offers or promotions
Track stock and generate wastage reports
Monitor staff holidays, absences, training, wages and shifts patterns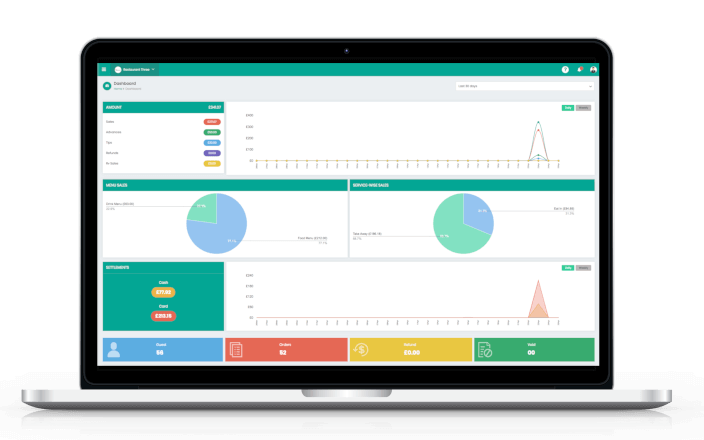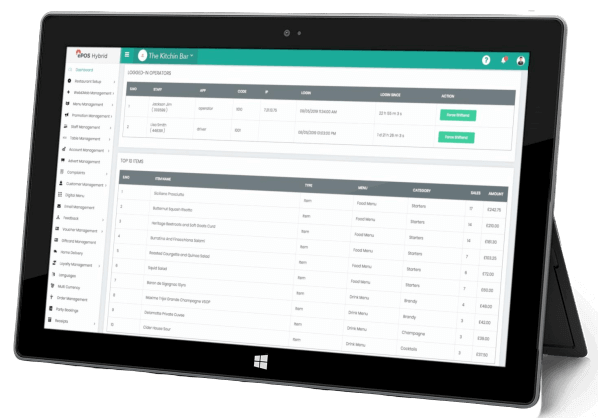 Live monitoring
By using our managers insights app, you can monitor your businesses operations and update key settings anywhere in the world. View live sales information, current and future table availability and even activate or pause promotions all while you're away from the business.
Your business can be monitored from anywhere in the world
Receive live sales updates as they happen
Keep track of all occupied and booked tables
Activate or deactivate current or future promotions
Easily update staff rotas while monitoring attendance and performance
Instantly monitor stock movement
Stock management
Automatic stock control empowers you to gain better control over your stock, while helping you save money by reducing wastage and over ordering. Our feature intelligently tracks stock levels and alerts you when stocks are running low, saving time and effort spent on daily stock checks.
Manage stock and easily track wastage, shrinkage and expiry
All stock areas including kitchen and bar can be tracked
Our reporting dashboard provides detailed insight into stock usage and wastage
Multi-location management
Our innovative multi-location feature allows you to manage multiple business locations from one place. You can gain an overview of each business location while having a clear overview of full business performance.
Create and offer custom menus for each location, or use the same menu for all
Publish one menu to multiple locations at the same time instantly
Custom offers can be created for each location in order to boost footfall
Easily compare sales and performances of each business on one dashboard
Wide reporting for each location
Staff management
Simplify your staff operations with full HR management. Create rotas, manage holidays, calculate payroll and even track training requirements.
Staff records, files and contracts can be managed from one place
Create daily rotas and manage annual leave, sick leave and absences
Staff training records can be tracked and managed easily and instantly
Training expiry or work permit information can be set up to alert you when updates are due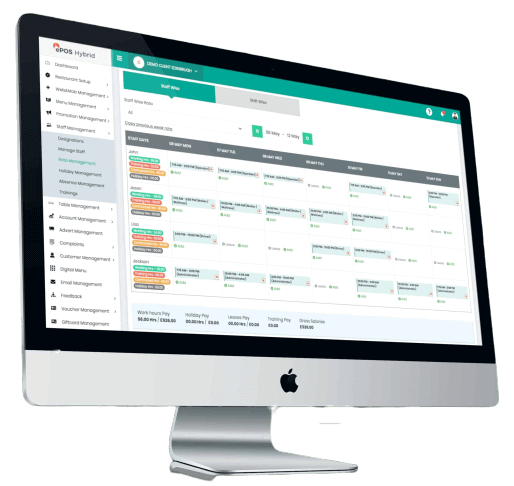 Here to help you grow
Running a business is hard work! That's why our friendly customer support Gurus are here to help you every step of the way.

Free system setup
We'll configure and setup your account to ensure you're up and running in no time!

24/7 customer and technical support
Got a question? Call or email our friendly customer support Gurus 24/7

Free updates, forever
We're cloud based, which means you'll always get our latest updates instantly and for free