Power your restaurant with the most advanced ePOS system in the world
Menu & Item Management
With our full menu and item management, you can update or change your menus and pricing anytime. Offer specific menus, like lunch-time deals, 2 for 1 offers or special occasion menus for Valentine's Day, Mother's Day and Christmas. Staff can also instantly view all cooking and menu information such as ingredients, allergies and calories with a click of a button.
A modern, user-friendly interface
Unlimited menu items and combinations
Offline Mode - keep working even if your internet is not
Automatically discount prices between certain times
Offer set menus and special occasion menus
Upsell items and drive revenue by offering multi-buy and combination deals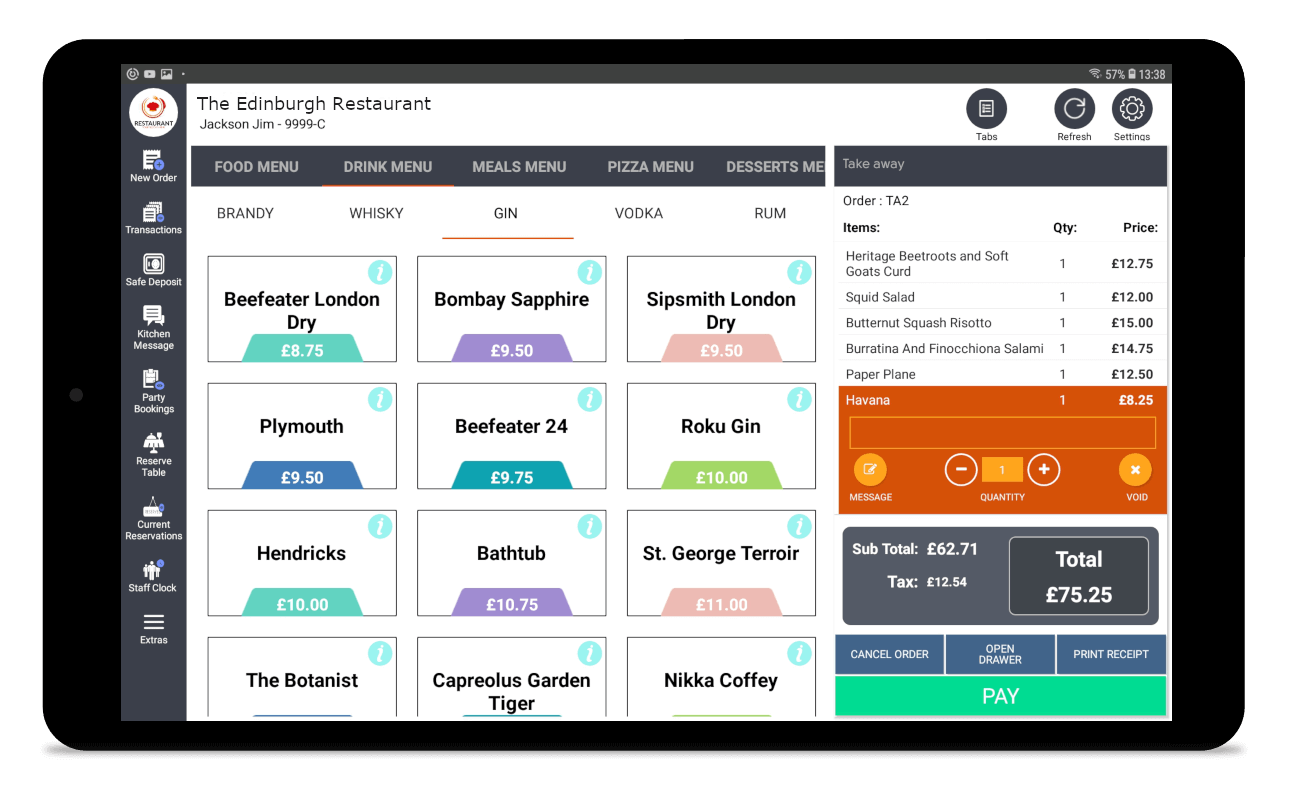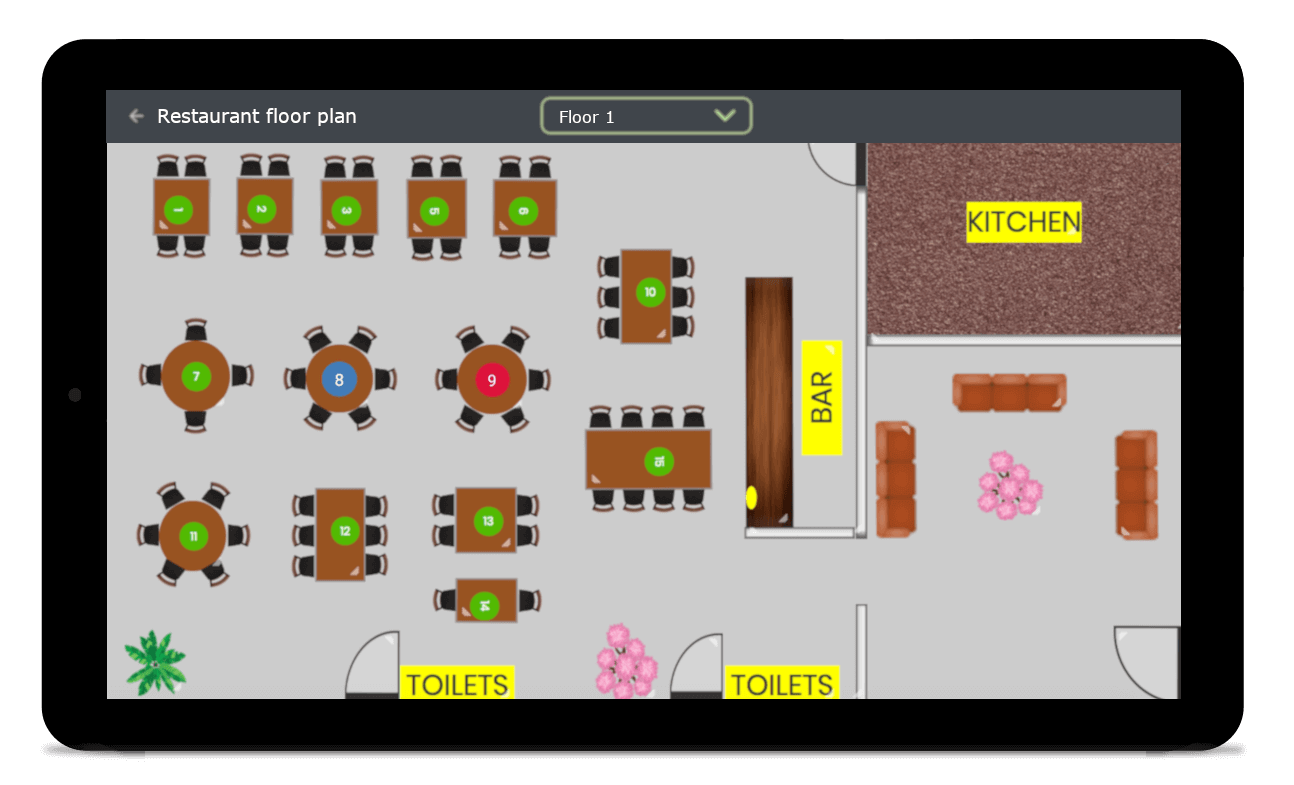 Table Management
With our effective table management functionality, you can reduce turnaround times and increase table covers. Our innovative drag and drop systems allows you to create precise floor and table layouts, allowing staff to manage reservations at a glance.
Easily create life-like floor plans
Increase table turnaround
Monitor tables in use and booked tables
Check reservations and restaurant capacity easily and instantly
Move placed orders to alternative tables
Take deposits for functions and events and reserve areas
Kitchen Management
Seamlessly connect your front of house team with your kitchen. Our ePOS terminals connect to dedicated order printers or kitchen display systems, meaning chefs can easily see and manage all their incoming orders. They have a complete overview of every order waiting to be prepared, orders which are in progress or those which have already been sent out to diners.
Instantly display or print orders as they are processed by front of house
All vital cooking information including allergies, cooking preferences and side orders are displayed clearly for chefs to see
Send different parts of an order to different kitchens, stations or bar areas
Keep track of kitchen productivity and automatically track cooking times
Online Orders
Allow customers to order online using your very own website or mobile app. Or you can fully integrate and manage 3rd party orders from Just Eat, Uber Eats and Deliveroo all from your ePOS terminals. You can receive instant notifications, accept or reject orders and send orders directly to the kitchen for preparation.
Dedicated website or mobile app offers customers online ordering
All your orders are in one place making it easy to manage
Full Deliveroo integration
Integrate with third party platforms
Easily differentiate between restaurant, take away and delivery orders
Digital Menu
Our sleek and modern digital menu simply sits on your tables and allows customers to browse menus, order food, request a bill and so much more.
A unique dining experience for your customers
Food and drinks can be ordered without staff assistance, increasing average order size
Instantly update menus with prices, promotions and food items
Reduce the demand on waiting staff
Feedback is easily provided
When not in use, you can run adverts and promotions
Customers can play preloaded games and quizzes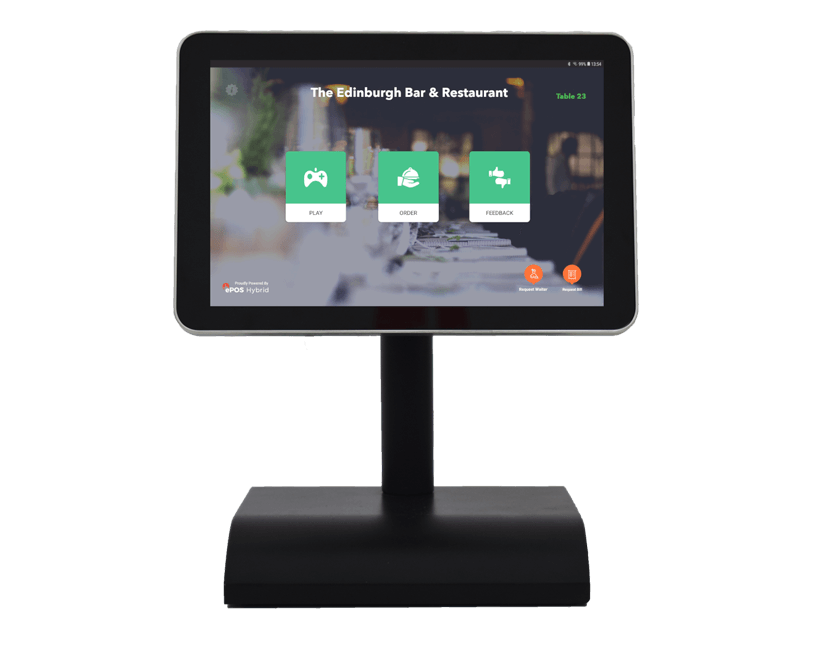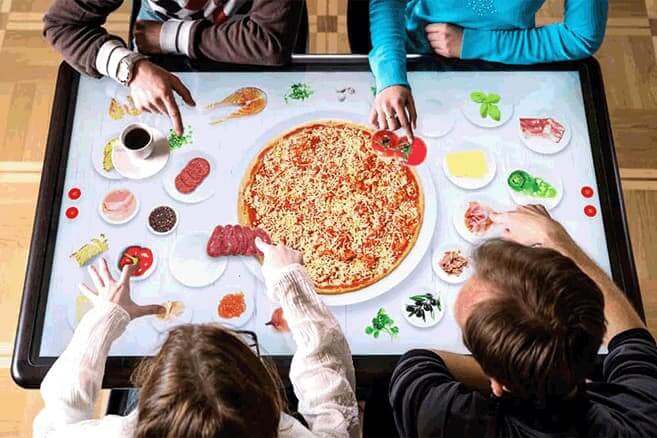 Smart Table
Offer the ultimate unique dining experience with our revolutionary smart table. This revolutionary table allows customers to interact in a fun and engaging manner while ordering food and drinks. They can play games, call a waiter and even design their own pizza directly from their seats.
Stand out by offering customers a unique dining experience
Food and drinks can be ordered directly from the table, increasing average order size
Customers will receive faster service while reducing your staff workload
Preload games are available for customers to play
You can use the table to display adverts when not in use to promote events, special occasions or offers
During busy periods it reduces the demand on waiting staff
Waiter Pads
Your waiting staff can take all customer orders and payments from the customers table using our handheld, waiter pad devices.
Using digital, handheld devices instead of traditional order pads, allows staff to improve customer service and accelerate your ordering and food service. By increasing service efficiency, restaurants can increase table covers and drive revenue.
Replace pen and paper with digital ordering
Orders are instantly sent directly to the kitchen
Increase average order size
Customers will receive increased service levels while restaurants can increase table turnover
Allow staff to spend more time with customers and increase customer satisfaction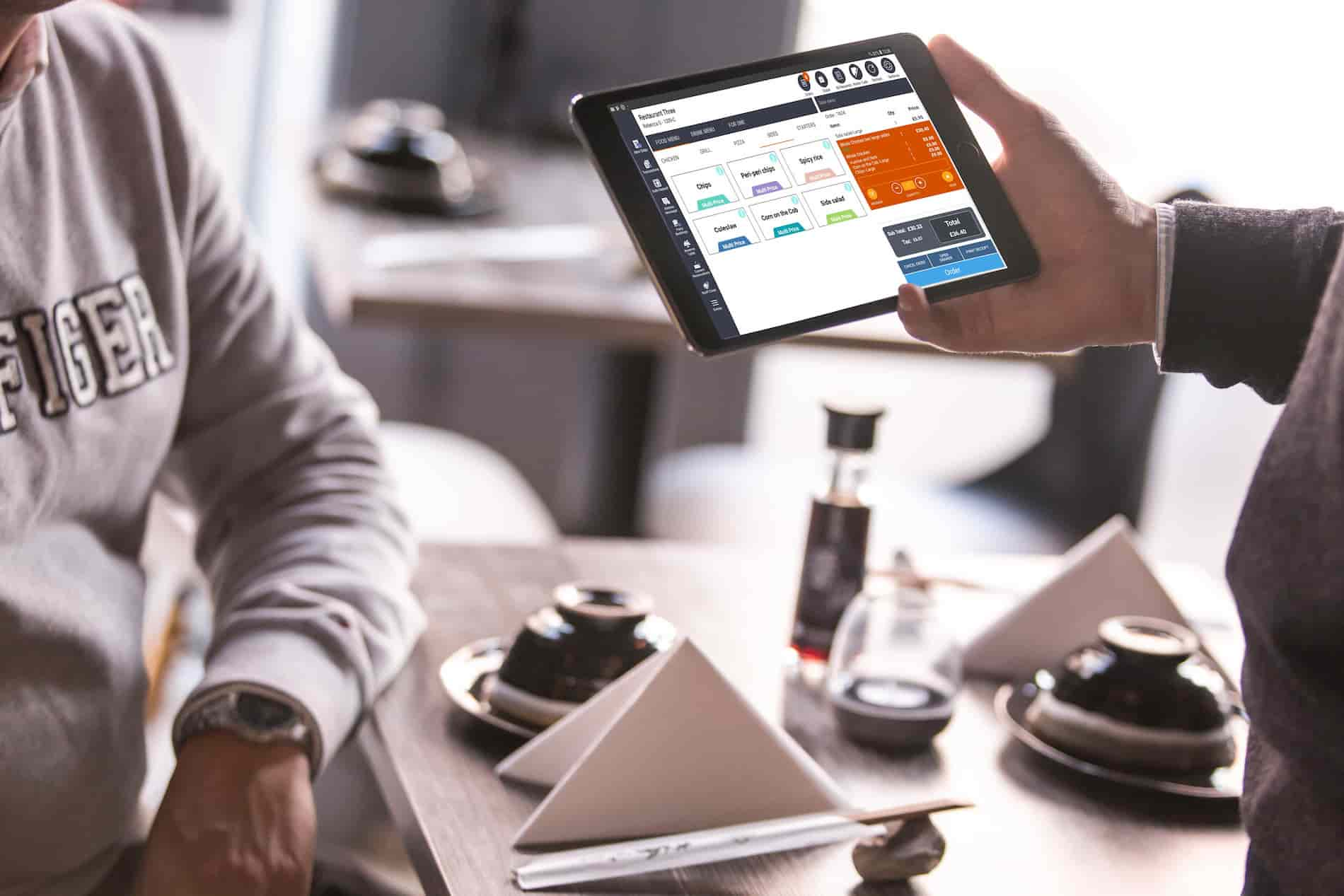 Staff Management
Our staff management module allows you to manage and automate all your human resource operations. Create staff rotas, schedule training and save employment documents all in one place.
All staff records, files and contracts can be managed from one dashboard
Create and manage rotas, annual leave, sick leave and staff absences
Manage and track staff training records
Set up alerts regarding expiration of training or work permits
Reports
Track every area of your restaurant using our powerful management reporting.
Monitor daily/weekly/monthly sales figures, identify best selling products and track staff performance all from one easy to use dashboard.
Generate financial reports, total sales, staff discounts and tax reports automatically
Track performance of promotions and special offers easily and in one place
View stock and wastage reports to see where you can save money
Track products and identify business trends
Here to help you grow
Running a business is hard work! That's why our friendly customer support Gurus are here to help you every step of the way.

Free system setup
We'll configure and setup your account to ensure you're up and running in no time!

24/7 customer and technical support
Got a question? Call or email our friendly customer support Gurus 24/7

Free updates, forever
We're cloud based, which means you'll always get our latest updates instantly and for free