How to supercharge your restaurants social media
10 restaurants whose social media campaigns are as appetising as their menus
Creativity is key in the restaurant world. Innovative menu choices and thoughtfully presented dishes are used to attract new customers and to keep them coming back for more.
But how do you reach your customers in the first place? And how do you set yourself apart from your competitors? In a world where we are all glued to our tablets and smartphones, social media is paramount when it comes to communicating with your customers. Not only does social media offer a simple way to connect with your target market, it should be an integral part of your business plan and, ultimately, the success of your restaurant.
We've come up with a list of 10 restaurants who have used social media to capture people's hearts (and stomachs) with their taste-bud tempting marketing campaigns. Read on to find out how these successful catering businesses have generated hype around their brand and what you can take from each example to help promote your business today.
1. Domino's Pizza uses simple social media sharing to generate hype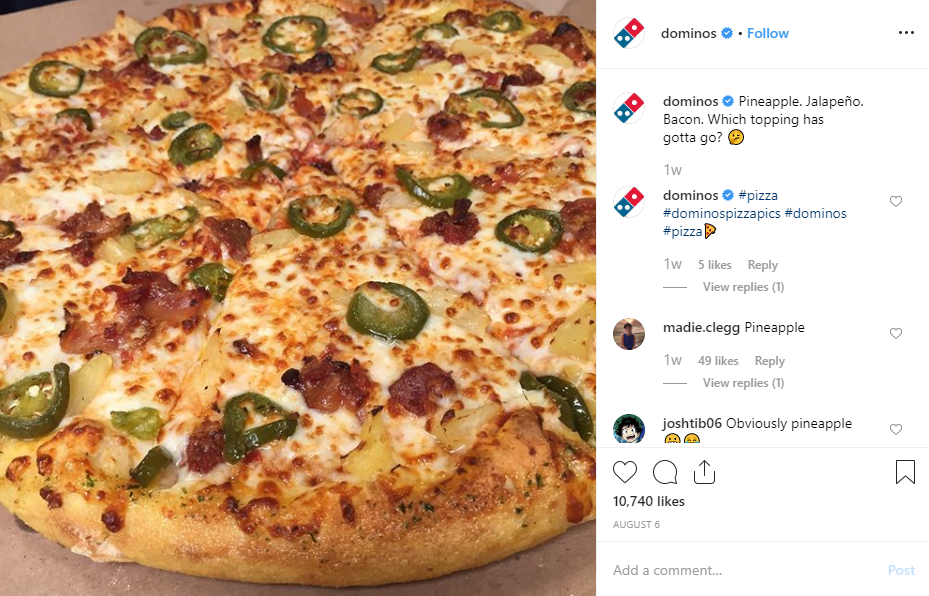 Let's get the ball rolling with a slice of cheesy goodness. Encouraging social media sharing is one of the most effective ways to lure your customers in and get them thinking about your delicious food. Imagine someone scrolling and stopping at this image. Maybe they're feeling a bit hungry and seeing this mouth-watering image gets them thinking about dinner. They tag a couple of their friends who also end up salivating and dreaming of pizza. Each of them tag two more people and boom! Post engagement levels are rocketing.
This particular post has generated more than 10k likes on Instagram by simply getting people to discuss delicious pizza toppings . You can easily use a similar technique in your own marketing strategies. 'Tag a mate and their favourite burger for 2-1 burger deal!". Get the idea, now go and apply it to your business.
2. Rick Stein's restaurant chain goes behind the scenes to add personality to their brand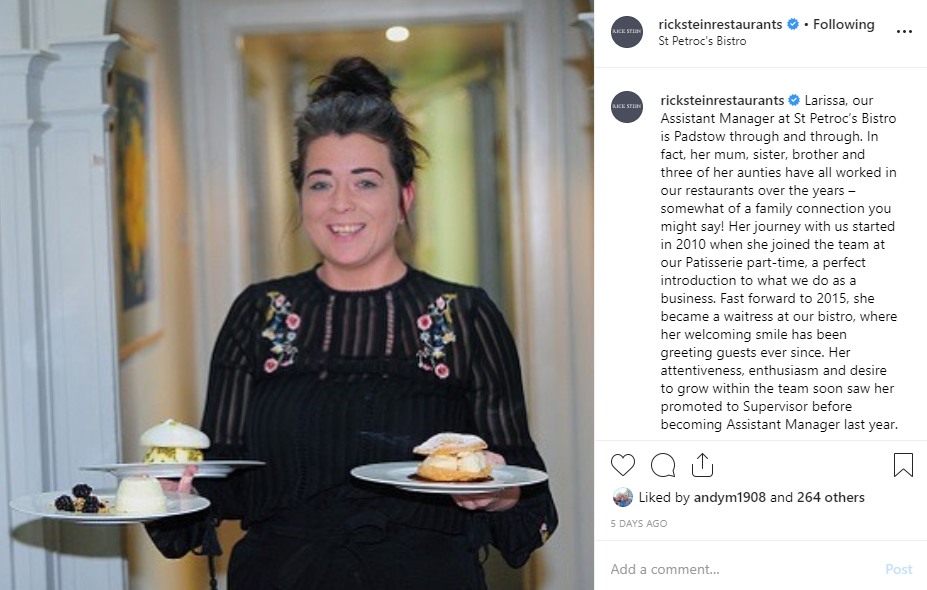 Rick Stein's Restaurants may have become an iconic brand, but they are still very family-orientated. We all get a warm and fuzzy feeling from a heart-warming story, so it's no surprise that going behind the scenes and stepping into the kitchen is a popular marketing technique in the restaurant industry.
Highlighting that this particular employee is a local girl who has worked for the company for a long time adds to the personality and authenticity of the restaurant brand. It shows that Rick Stein's restaurant chain values their staff; therefore they probably really value their customers too. This kind of post not only says something about the quality and presentation of the food, but also about the kind of service you would expect if you dined there. Very clever indeed. Does your restaurant have a story to tell? Show your customers the face behind the brand and connect with them on a personal level.
3. Burger King uses popular culture to engage their followers
Unless you've been living under a rock, you will have probably watched 'Stranger Things', or at least heard people talking about it. The Netflix series is so popular that the writing is easily recognisable and the concept of the 'upside down' is something that all avid viewers will understand. So this ingenious post easily grabs the attention of the series' fans.
With more than 33k likes on Instagram, this basic yet inventive idea has clearly gone down a treat. The marketing team at Burger King has cleverly timed this social media post with the release of the new season of the show, highlighting how it always pays to be looking ahead to think of ways in which you can use pop culture to help your business get more exposure. Make a list of any popular TV series or films being released soon and see if you can think of any ways in which you could use this in your next marketing campaign.
4. Frankie and Benny's shows just how much they value their customers' opinions

A quick and easy way to engage with your followers is to ask them a question using a social media poll. Not only does this help you to find out what your customers like, it also gets people thinking about your food. Frankie and Benny's has done this effectively here, by asking their customers to vote which dish they think should make a comeback on their menu.
Asking questions is a great way of captivating people; it sparks up a conversation and helps you to build relationships with fans of your food. Put simply, creating a speedy social post in the form of a question or poll builds engagement and loyalty. Winning. This is something really simple you can do today. What would you like to find out from your customers?
5. Boo Koos American Style Diner creates fun experiences for their customers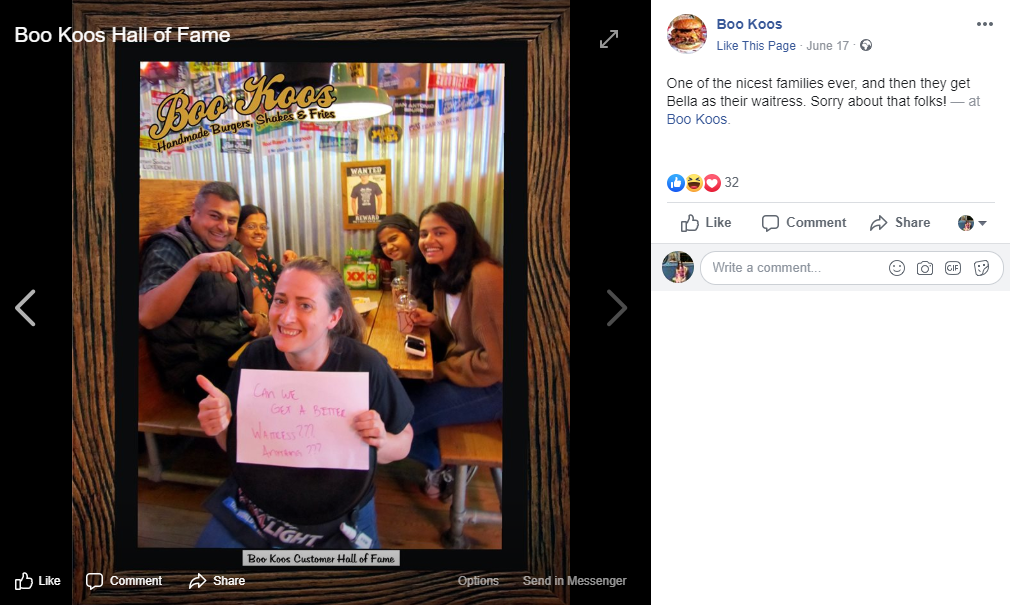 Boo Koos American Style Diner has really sussed out how to make their customers feel special. By creating their 'Boo Koos Customer Hall of Fame', they have found a way of improving customer experience during their visit to the restaurant, as well as offering them something to take away with them. By making the dining experience memorable in this way, it encourages customers to return to the restaurant again, therefore increasing brand loyalty.
Moreover, this handy hall of fame also makes great shareable content; customers are likely to share their picture with their friends and followers on social media, therefore raising the restaurant's profile and generating new business for them. Very effective indeed. Could you do something similar at your restaurant?
6. Nandos uses a memorable hashtag to capitalise on user generated content
Have you ever been for a #cheekynandos? Perhaps you've nipped in for one before the cinema, met your friends there for an impromptu dinner or popped in with the family after a shopping trip? Chances are, you've heard someone utter the phrase 'cheeky Nandos', even if you haven't said it yourself.
Search #cheekynandos on Instagram or Facebook and you'll be presented with a whole host of images which use this hashtag. There will likely be close-ups of the tasty food, group shots of families, friends, couples or colleagues, and often, like the example above, some lucky people who are being treated to a cheeky Nandos. It's a phrase which sticks in peoples' minds and one which provides Nandos with connotations of being somewhere where you go for a treat. What could the memorable hashtag be for your restaurant?
7. Pizza Express appeals to families with their fun competition for kids
When you're planning your next digital marketing campaign or social media stunt, it's important to consider your target customer. Who would you like to see walking through those doors? Are you a family-orientated eatery or a romantic restaurant where the focus is on candlelit dinners? Or perhaps you're a mixture of both? Pizza Express is one of the most famous Italian restaurant chains in the UK, but has plenty of strong competitors to boot. Therefore they need to continually come up with fresh ideas to draw in new and returning customers.
As a family-orientated restaurant, making their menu and dining experience fun is almost as important as the quality of their dishes. This 'design your own pizza' competition is perfect for getting kids involved and it's something the parents can help out with too. Getting creative and thinking about flavours will leave them feeling hungry for pizza and so they're sure to pay the restaurant a visit soon, whether their innovative flavour combination comes out top or not!
8. Gourmet Burger Kitchen served up a Wimbledon themed special offer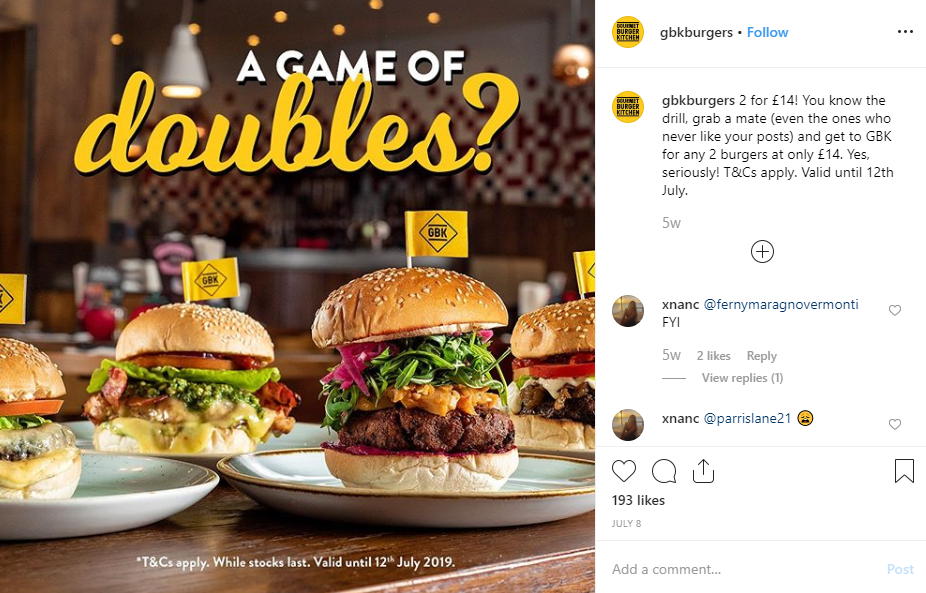 Special offers and tempting meal deals always go down a treat on social media. Whether it's a discount on a particular day, a free pudding with a main course or a money off voucher, your thrifty customers are always looking for a bargain. Special offers help get more people through the doors and if they enjoy their experience, they are sure to visit again and spread the word to their family and friends.
Gourmet Burger Kitchen's idea is particularly cunning because they have timed it with Wimbledon, combining tennis with burgers to create this witty play on words. This game of doubles refers to their 2 burgers for £14 which is a great deal in itself, but the fact that they've tied it in with a popular sporting event is pure genius. This combined with the image of the sumptuous-looking burgers will make it difficult for their followers to refuse! Could you create a restaurant deal and use a current event or sport tournament as a theme to help you to promote it?
9. Bill's uses stimulating visual content to enthuse followers about their new menu
We've lost count of the times that we've seen restaurants share a picture of their new menu as a social media post. Usually you can't read it properly, especially if you're looking at it on your phone, and often it's not eye-catching enough to stop someone scrolling in the first place. Instead of this, Bill's restaurants has opted to share their brand new summer menu in a much more visual way.
This shot of some of their new seasonal dishes is very Instagram-worthy indeed; the presentation and photography have been well thought out to create a feast for the eyes. This is much more likely to stop people mid-scroll and to inspire people to visit the restaurant to try one of these tempting dishes. Of course, you can still add a link to the menu on the website, rather than posting the whole thing on social media. However brilliant your menu descriptions are, your mouth-watering creations are going to look so much better in a photograph than as an item on a menu. Cameras at the ready!
10. Millie's Cookies used a clever hashtag to spread the word about their competition
Now, in true restaurant style, let's finish with the dessert. If you've got a sweet tooth, there's no way you couldn't be tempted by Millie's Cookies' delectable Insta-feed. Their social posts are all choc-a-bloc with beautifully designed cookie creations that you can almost taste just by looking at them.
But we wanted to highlight something they've done which is particularly effective. Their competition incorporates three effective parts: a fantastic prize, an eye-catching poster and a clever hashtag. These things work really well together to create an exciting giveaway. Their use of a hashtag deserves a special mention because they have come up with something unique yet memorable, which is relevant to the competition prize. This encourages people to share the giveaway on their own feed, using the hashtag and therefore generating more of a buzz. Everything about this clever post gets the taste buds tingling. If you're planning a competition, why not think of a relevant hashtag to go with it?
Are you ready to get as creative with your social campaigns as you are with your flavours? We hope these 10 examples have given you some food for thought.
---
If you want to learn more about marketing your hospitality business check out our blog library and like us on social.