Use social media to engage with your audience
Online marketing and social media should be an integral part of your business plan. If you haven't signed up for Facebook, Twitter and Instagram accounts for your business, do so right away!
Social media provides the easiest and quickest way to connect, communicate and engage with your target audience and drive new customers towards your business. Not sure what to post? Start with sharing tempting images of your delicious food - guaranteed to get people's mouths watering! Next, show off the authenticity of your takeaway restaurant by posting images of your staff at work; this little glimpse behind the scenes helps people to identify with you and feel more at ease when placing an order with you.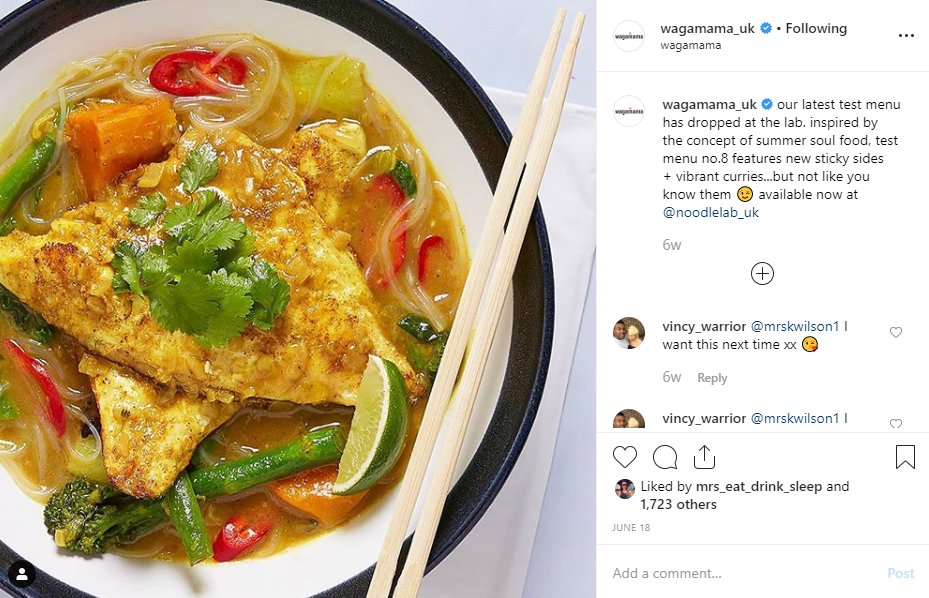 Don't forget to embrace the power of hashtags and emojis throughout your social media content. Helpful tips are to hashtag the area you live in, i.e. #London, plus make use of food related hashtags such as #nationalpizzaday, #foodphotography or #foodporn.
It's also worth setting up a Google My Business page, as this allows customers to review your restaurant and also makes your takeaway appear when people are searching online for nearby takeaway food. Ensure that you monitor the reviews and respond to them. Likewise, maintain a fast response rate across all social media channels, replying to people's comments and messages as soon as possible.
One final note on social media marketing for takeaways is to consider the timings of your posts. Try to catch people when they're hungry, on their lunch break, or leaving work and deciding what to eat for dinner. Tempt them with attractive images of your dishes.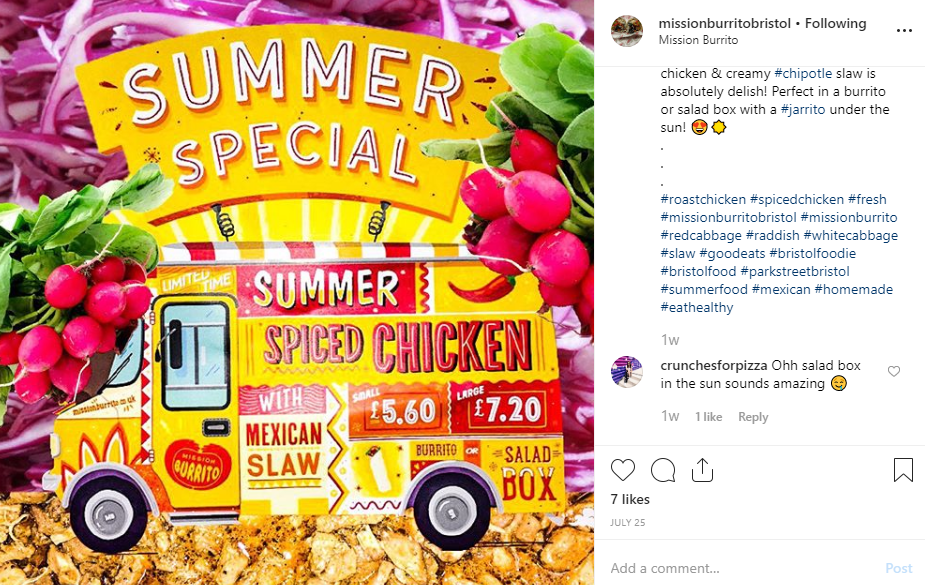 Other things to shout about on social are menu changes, new dishes, offers, deals, competitions and facts about your food, such as where the ingredients are sourced from. Remember, make your posts as eye-catching as possible, to entice your customers in.
---
Read more about effective social media marketing here https://www.eposhybrid.com/blog/how-to-supercharge-your-restaurants-social-media
---
Master effective food photography
This is applicable to all social media channels, but is particularly useful for Instagram. Producing Insta-worthy content will stop your customers mid-scroll, hopefully prompting them to click through to your website in search for your menu.
So just how do you go about insta-worthy foodie content for your takeaway restaurant? First, choose the most mouth-watering menu choices you have and get busy in the kitchen. Remember, the presentation of the food is key when it comes to effective food photography.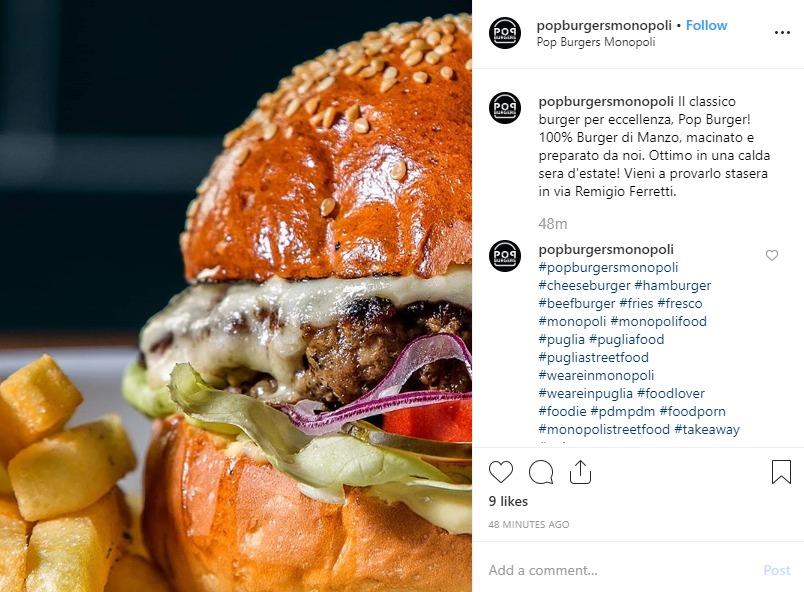 Once you've prepared your dishes, experiment with different angles and lighting, zoom in on the scrumptious food and try to make the most drool-worthy visual content you can. When it comes to posting your visual masterpieces, remember to use those relevant hashtags to get your social posts viewed by as many potential customers as possible.
Create a clever deal to entice new customers
You need to give your customer a reason to choose your restaurant. Aside from the skillful food photography of your enticing takeaway dishes, you can't beat a cheeky deal. Whether it's two for one, a mega feast deal for families, free desserts or drinks, or a percentage off the bill, your customers won't be able to resist a money-saving offer. A clever technique you could try is offering a deal on a specific day.
Domino's Pizza had a genius idea when they created their 'Two for Tuesday' offer, enticing customers on a day when they might not normally buy a takeaway. They were able to get new customers through the door who will likely order from them again and creating a memorable title for their special offer, to help customers remember it every week. Domino's use email marketing, television adverts, social media, print advertising and several other methods to promote their smart 'Two For Tuesday' deal. Many takeaway restaurants have followed suit, using word play to create a memorable deal for a specific day.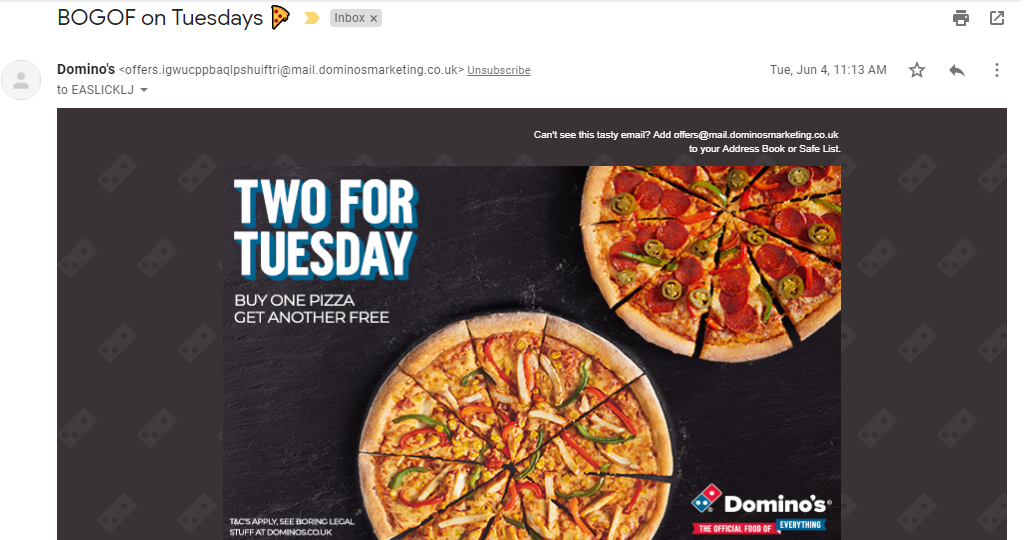 Similarly, you could choose to invent a one-off deal around a particular national holiday, special event or themed day.
Atomic Burger decided to offer an American-themed burger at a discounted price on an American holiday, with a relevant hashtag.
A savvy and well-timed marketing technique if there ever was one.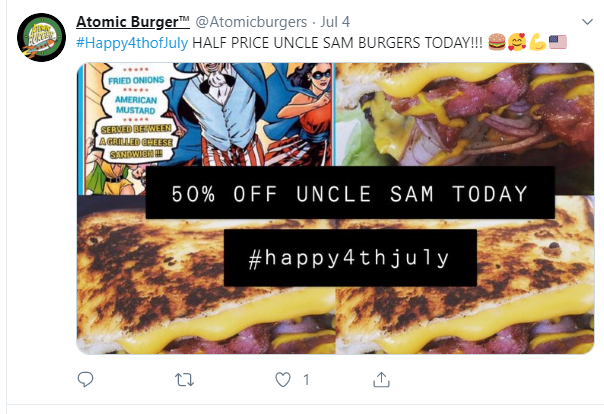 Instead of a deal on a particular day, you could try partnering up with companies such as Just Eat or Deliveroo to offer a deal when customers order their food on a specific platform.
Companies such as these are likely to have larger audiences and social engagement than your own business, so having them share the offer with their followers will help boost your following too.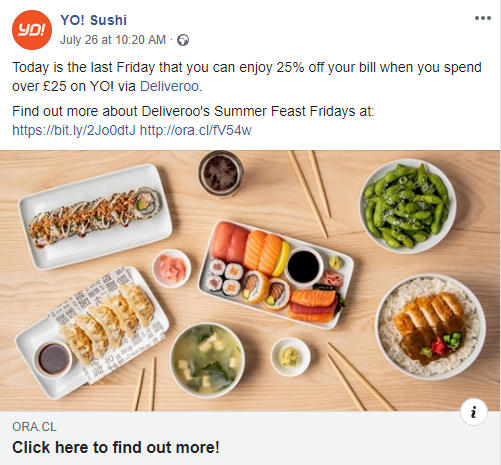 4. Develop a regular e-marketing strategy
Now you've mastered the social media side of things, the next step is to supercharge your email marketing strategies.
Email marketing platforms such as Mailchimp and Campaign Monitor are fairly straightforward to use and you can create great looking marketing campaigns to send to your mailing list.
There are plenty of things to write about in your e-newsletters, but it's best to keep them short and simple; concise and to the point.
Don't email your customers for the sake of it because you'll only make them lose interest and unsubscribe.
Instead, send an e-marketing campaign when you want to offer them a deal, tell them about something exciting like a menu change, or make them feel special by sending them takeaway tokens on their birthday.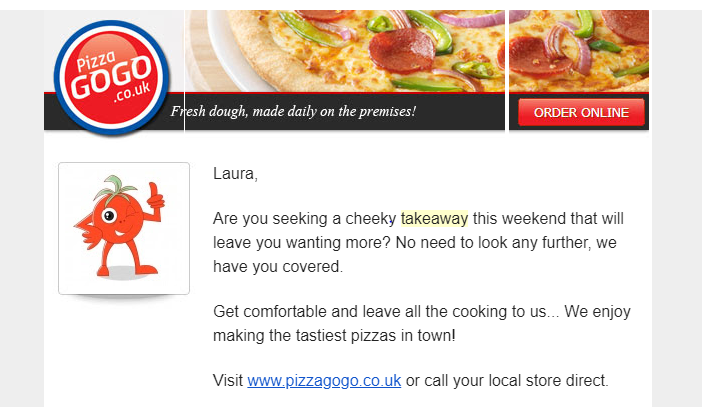 Don't underestimate the power of the subject line when it comes to email marketing.
Your subject line is what your customers will see first and it needs to lure them in.
Make sure your subject line stands out, so people can easily see what the email is about when they are quickly scrolling through their emails.
Consider using emojis in the subject line too, as they will help the email to stand out.
5. Use eye-catching direct marketing to get your name out there
Now that we've covered some of the digital stuff, let's not forget about old-school print material.
Many studies show that people are more likely to look at something physical that's in front of them than they are at an email.
Create an attractive leaflet or menu that can easily fit through peoples' doors and deliver them to local addresses.
Highlight new options on the menu, include vouchers or discount codes, and make the ordering process clear and simple.
Make sure that your direct marketing materials are clear, colourful and eye-catching, with plenty of tempting images of the delicious dishes customers can choose from. If the food photography tantalises the taste buds and there's a tempting offer on the front, you can't really go wrong.
6. Spread the word with striking, branded packaging
Your marketing strategies don't end when the customer has left the building, in fact it is just the start.
If your customers are carrying their tasty takeaway food way in plain packaging, you are missing a trick. Using bright colours, a simple message that's easy to read and something people can associate with your business, creates winning food packaging.
Your customers will be carrying the food home, or maybe even tucking into it in a public place such as on the train, in a park or back at the office.
Therefore branded packaging is paramount when it comes to generating more of a buzz around your takeaway.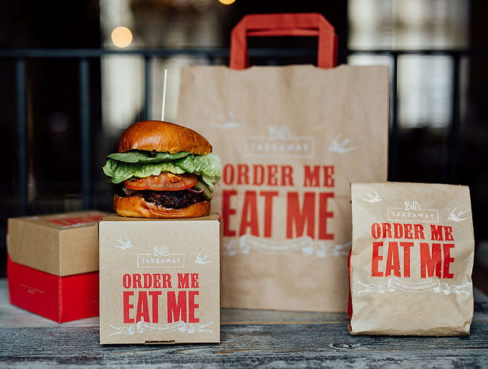 You want your packaging to be striking and memorable. It should reflect your brand personality, which you can read more about here > https://www.eposhybrid.com/blog/how-to-craft-your-brand-personality-to-attract-your-dream-customer
You might want to consider creating a logo, slogan or image that people will come to associate with your brand, making the packaging easily stand out from your competitors' food packaging.
Top Tip! - Don't forget to consider all sides of the packaging, rather than just the front. Your restaurant brand should be easily recognisable from all angles.
7. Keep things simple for customers with a branded app
Direct marketing, takeaway menu's and mailers take the form of an app.
One of the key aspects of direct marketing was to make the ordering process seem fast and easy for customers so they are more likely to order from you.
The same principle applies to developing a branded app.
Search for restaurant takeaway apps in the app store on your mobile phone and you'll likely find apps offering deals, vouchers and an easier way of ordering food without having to phone a number.
In the digital age, people are used to being able to sort out many aspects of their lives by the touch of a fingertip, so the more convenient you can make your ordering process, the better.
Developing an app will really help with this.
An app also allows you to present your best deals to your customers, show off your delicious menu and new dishes, whilst making your takeaway restaurant easy peasy to place an order with. Remember, convenience is always a bonus!
Experiment with different features you can offer and try to make the experience as fun as possible for your customers. For example, Domino's have invented different ways of showing the customer what stage their delivery is at, which generates excitement and lets them know when to expect a knock at the door. Genius.
Also, make sure your website has a copy of your menu that is easy to load and read, and that the website is mobile friendly too. Not everyone will download the app, but lots of people will use the Internet on their phones.
8. Produce interesting content regularly to entice your target customer
A business that grows organicaly is a good business.
One of the best ways of improving your SEO (search engine optimisation), making it easier for potential customers to find you on Google, is to add fresh content to your website regularly. The simplest way of doing this is to create a blog section and add to it on a regular basis, whether that's once a month, once a week or a few times per week.
Wondering what sort of things to write about?
Start with news stories, menu changes, recipes, funny stories and success stories.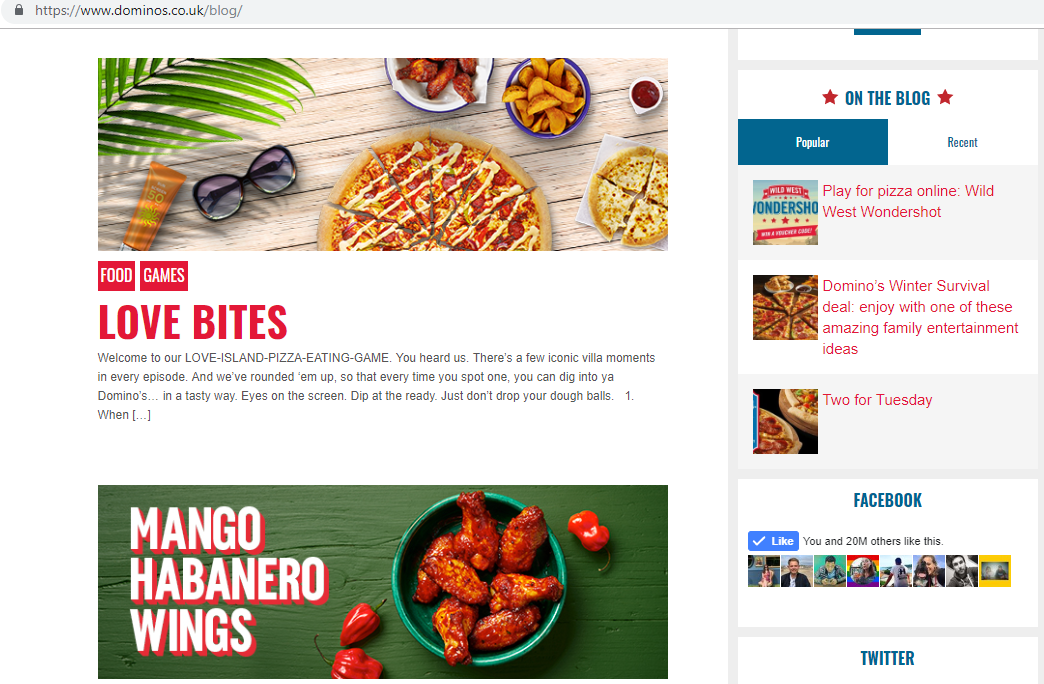 Aim to develop a consistent voice which matches your brand personality and shows off the kind of business you are. Make sure your blog is easy to find on your website.
Additionally, you can supercharge your SEO by getting some external links. Put simply, the more websites that link to your website, the better.
The higher domain authority the website has, the better. All links are good links, but websites with higher DA scores will help make your own DA score higher, therefore making your takeaway restaurant appear higher on Google search results.
Take a look at some of your favourite takeaways or restaurants and get some inspiration from their blog pages. You can use your fantastic food photography skills here too!
It's also definitely worth implementing some PR strategies.
This isn't as complicated as it sounds - simply share all your cool news stories with the local newspapers, foodie magazines and relevant websites.
Spread the word about your business and aim to get a link back to your own website (great for that Domain Authority score again).
9. Use food bloggers and influencers to your advantage
Another PR strategy you could use is blogger outreach.
Google 'food bloggers' and you'll find a whole host of food lovers who have a space on the internet where they share their foodie thoughts and restaurant reviews.
Find a couple of bloggers that you think would be relevant to your business and who could do it justice in a review.
Offer them a free meal in exchange for an article, blog post or social media post and let them help you to generate a buzz around your takeaway restaurant.
Think about who your target customers are when you're considering blogger outreach. For example, if you want to promote your takeaway as having great options for families and children, you might want to consider searching for family orientated bloggers.
10. Generate a buzz with a quirky competition
It cannot be denied that people love a freebie.
Competitions always go down well, whether on social media, email or in the restaurant itself. Offer a free meal for a couple, family or group and ask as many people to enter as possible.
If done on social media, it creates great shareable content which can help to increase your following. If done by email, it can help you to increase your mailing list. Aim to make the competition fun and a bit quirky if possible. You could ask customers to share a picture of them eating food from your restaurant, get them to invent their own recipe or dish, or ask them to write you a funny story about why they think they should win. Get creative!
Finally, remember to always highlight your strengths, whether it's sourcing local ingredients, having plenty of vegan and gluten free options, the speed of your service and delivery, or the originality of your dishes - shout about what sets you apart from the crowd.
---
---
If you want to learn more about marketing your hospitality business check out our blog library and like us on social.